The Quiet Shore
2011, single channel video projection, black & white, silent, 32 min 32 sec
The motif here is a beach in the town of Dinard, Brittany, a region that is known to have the strongest tides in Europe. The beach is fascinating at low tide, when parts of the sand are revealed that are silver-looking due to it being permanently soaked in water, mirroring the surrounding cliffs and houses on top. One of those houses served as a model for the house in Hitchcock's Psycho, who regularly visited the place and has his statue on the promenade.
The stillness of the silvery water, with silver itself relating to the history of photography, must be what triggered the idea to apply an extraordinary stillness to the water of the sea, which in The Quiet Shore, has become one gigantic quiet surface. The whole scene has an icy feel to it, despite it clearly being set in summer. The materials seem to contradict one another, or exchange one another's properties. After longer observation of this warm summer scene, it would appear that we can no longer read the materials as we did at the beginning, as if the stillness of photography - this work is presented as a digital slide-show- was reflected in the materials, now icy.
This effect is amplified by a young boy splashing in to the water, shown in detail towards the end of the film. By the time we have come to this part of the film, his act no longer feels as if performed on water, but on crystal or ice.
The Quiet Shore is exemplary of the search for materiality in digital, a preoccupation that only seems to increase in significance as we exchange large parts of a material world for a digital environment.
further reading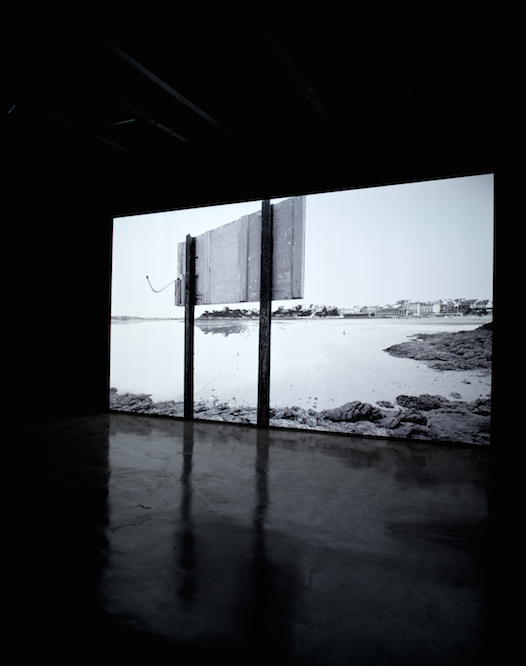 Conversation with Thomas D. Trummer at Kunsthaus Bregenz 14 July 2018 from Claerbout Studio on Vimeo.